The biggest EOS race ever is awaiting us in a couple of weeks and will take place at the Sporthotel Grafenwald in Daun, GER. With 500+ entries, it will be the biggest ever carpet offroad race in Europe. As for every race, the track is the heart of the event. The EOS is very happy to have Pawel Ntkovca from Łódź, (Poland) designing and building the track for the EOS season finale. Pawel is a very experienced track designer, and we had the chance to talk to him prior to the event to find out about his background and his talents of designing tracks and painting amazing stuff on clothes and canvas.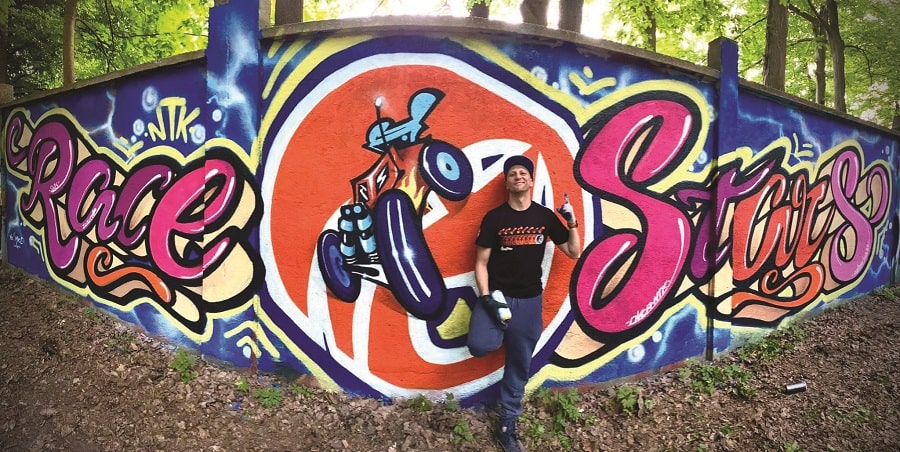 EOS: Hello Pawel, thank you for your time to talk to us some weeks before the EOS race in Daun. We hope that you are fine. How much are you looking forward to the biggest ever EOS event?
Pawel: I'm super excited about the biggest carpet race in the history in Europe where I have the opportunity to design a track for such a great event. EOS #10, it's a big pleasure and I want to create the best track for racing in Daun. I have already finished the layout drawing and today you can see it on THIS picture. It should be a great track for racing with a good mix of flowing secitions, speed, and jumps!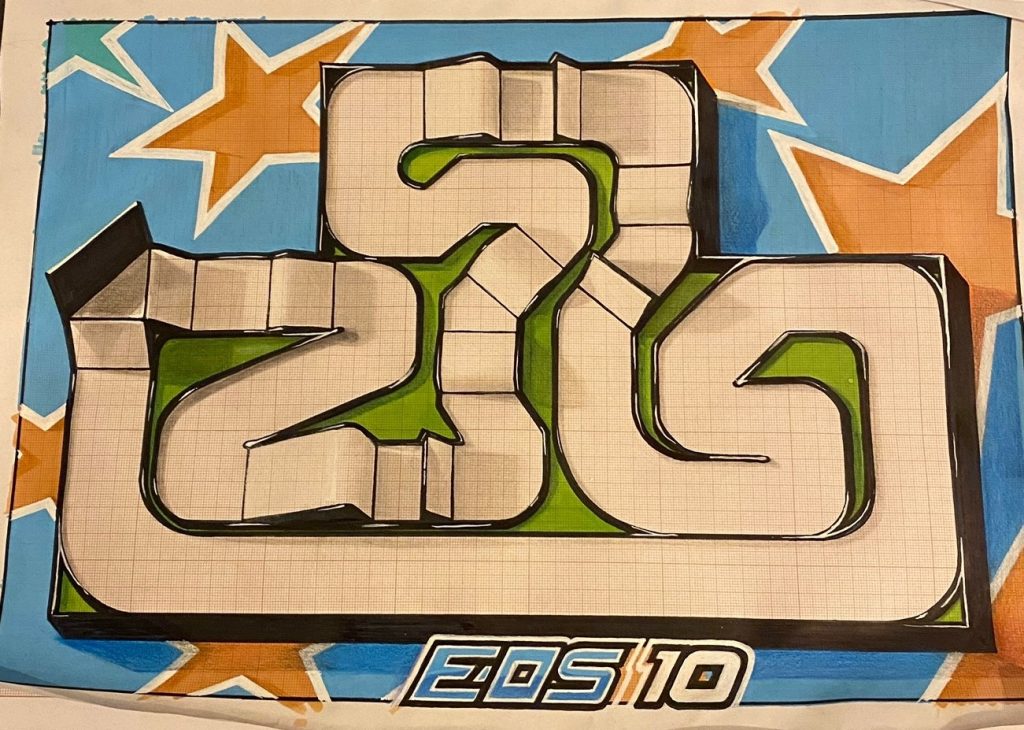 EOS: Before we talk about track designs in detail, tell us how and when you got into the RC hobby and why you started designing RC tracks?
Pawel: My adventure with the RC cars started in 2005 in Denmark. It was then that I discovered the RC hobby, which quickly soaked me in. I was impressed by the driving skills that it took to master RC and how RC equipment works. I found myself constantly thinking about corners, jumps and how to get faster. When I went back to Poland in 2012, I visited some RC tracks. Professional RC racing was losing popularity in Poland at the time, but I loved the hobby and had some ideas. I felt capable of designing racetracks and organizing some local events. I listened to advice from some of the best drivers like Michal Orlowski, Bartlomiej Zambrzycki and many others about what they wanted to have on track. Over the time, I brought over one hundred foreign drivers to Poland and listened to their opinions on how to make better track designs and jumps. This is how I gained knowledge and experience. It quickly paid off and drivers noticed that. At first, my track hosted a few local drivers. Now the tracks I design for Benek Cup, Xray Racing Series Poland, and the Race Stars Contest are known to sometimes host over 300 cars at a single event. This was all done with the help of the best track crew ever, RC Janusze! Race Stars Contest start to pay back from race to race in last event we have 180+ cars from 6 countries. EOS racing so much inspiration to me and motivate to work. It's very important for me I can join there.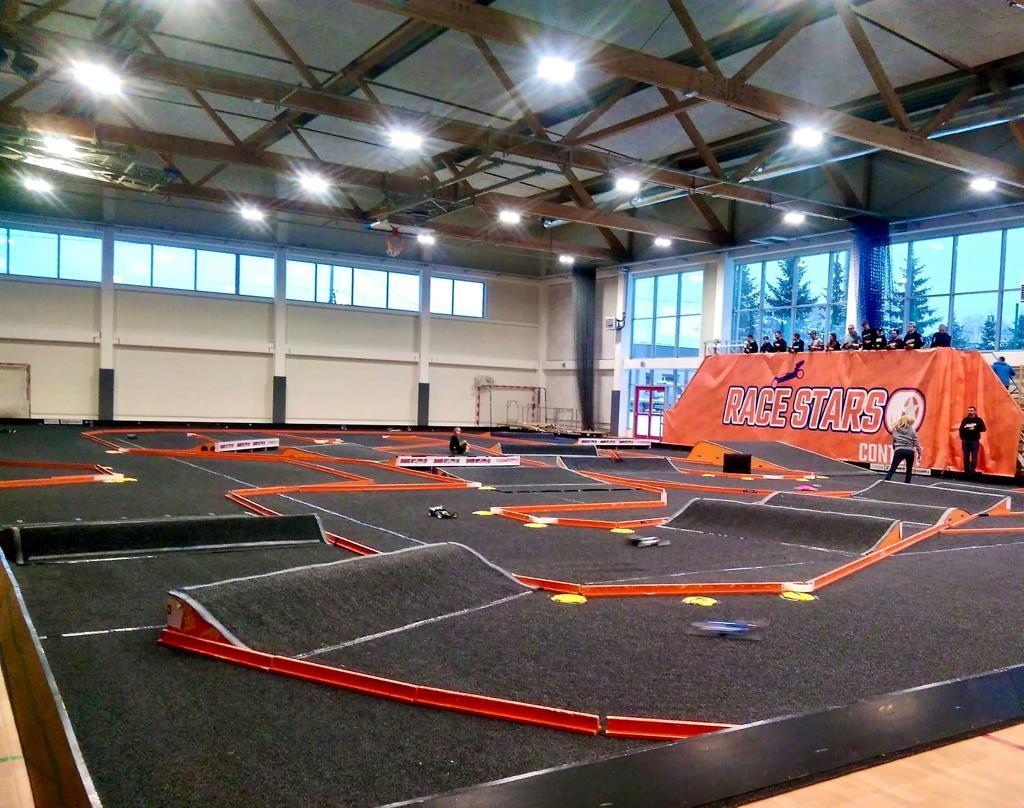 EOS: What types of tracks do you enjoy the most and which is your favourite design and why?
Pawel: I enjoy seeing the "flow" of the track, especially for 1:10 Offroad, 1:10 carpet, and 1:8 nitro racing. Inspiration wise, I like seeing drivers with smiles on their faces enjoying a track I designed. I also try to learn from one of the best track designers and dirt masters, Joey from "The Dirt." It's overwhelming how Joey revolutionized and pushed offroad RC and racetrack flow. I have a tremendous respect for him. I'm also super happy that Joey appreciates my skills, and it is a pleasure to do a design for him. (Pawel has recently created a track design for "The Dirt".) Also big respect for Anthony Westergaard from "Factory Tracks" (USA), Miguelo Izquierdo Rodriguez "tempeltonpec" (Spain) and Redovan designer "Trapax".
EOS: How many tracks have you designed in the last years?
Pawel: I have designed over 100 tracks, most of them were for carpet racing, but I'm mostly proud of three outdoor tracks that I created for 1:8-scale racing here in Poland. One of them is in my city, another one is in Wolsztyn at a place called "Latina RC Racing", and the third is in Wlodawa at "RC Sport Wlodawa." That track was used for the Polish Nationals. Also for India, Florida, UK, Nederland, Spain, Brazil and more.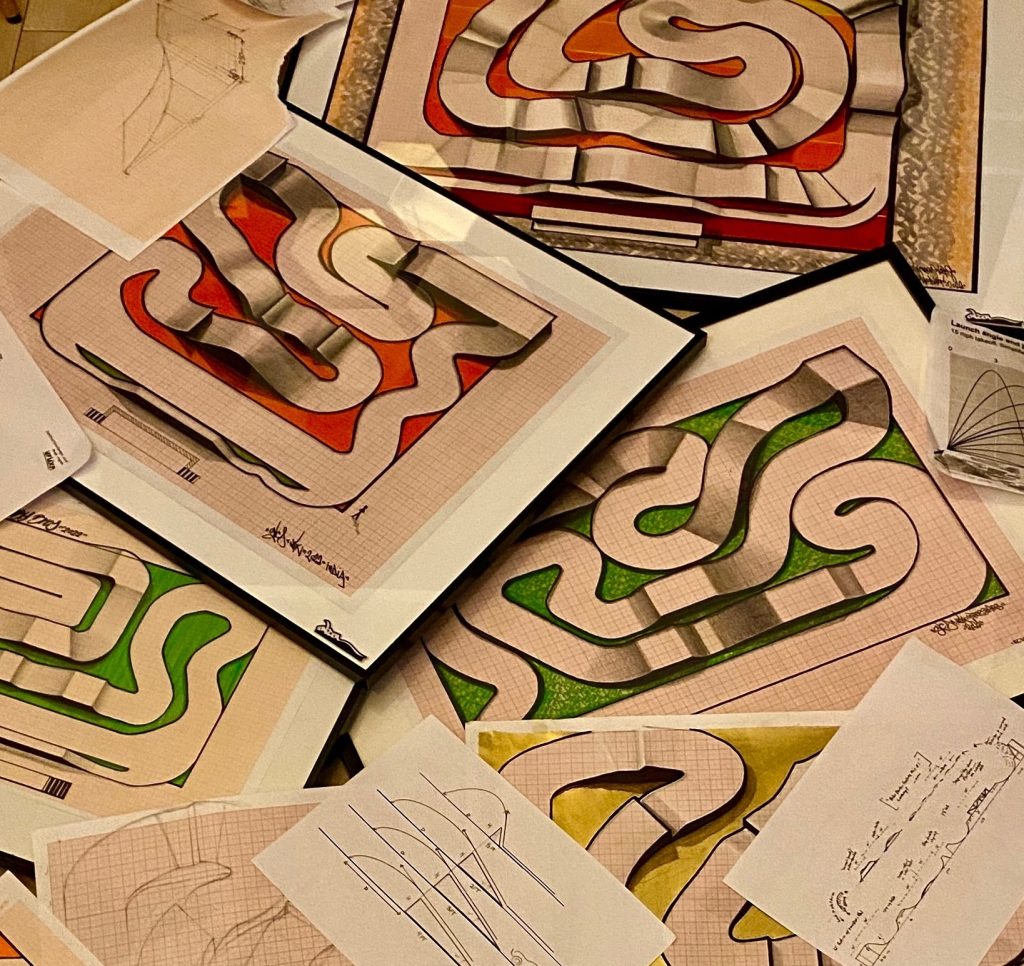 EOS: How do you create your track designs? Are you drawing by hand only, or do you use a computer to get the job done?
Pawel: All my track layout drawings are done in freehand work, without the help of a digital computer. I draw them on technical paper at 1:100-scale. Each track drawing has only one original copy. This this is something new I think. I collect together my over 20 years of experience with graffiti art, airbrush, drawing and I mix this with over 10 years of experience of racing what I feel to be a good with the flow, and on the end came out pretty nice illusion, and when your frame is this, you can have it like a canvas, but the same time this is a real technical project for building a track on the real size.I think this makes my track design special and different to others.
EOS: Are you working in a similar job, where you need these amazing skills?
Pawel: I am working in racing canoe company "PLASTEX" so I paint those boats for the best athletes in the world when I create special stuff on their boats like they want. You can see my boats in Olympic Brazil RIO, Tokyo. Sebastian Brendel Germany, gold medalist in RIO, Jakub Tokarz Poland, paracanoe gold medalist, Nevin Harrison US, Gold Medalist Tokyo and many many others.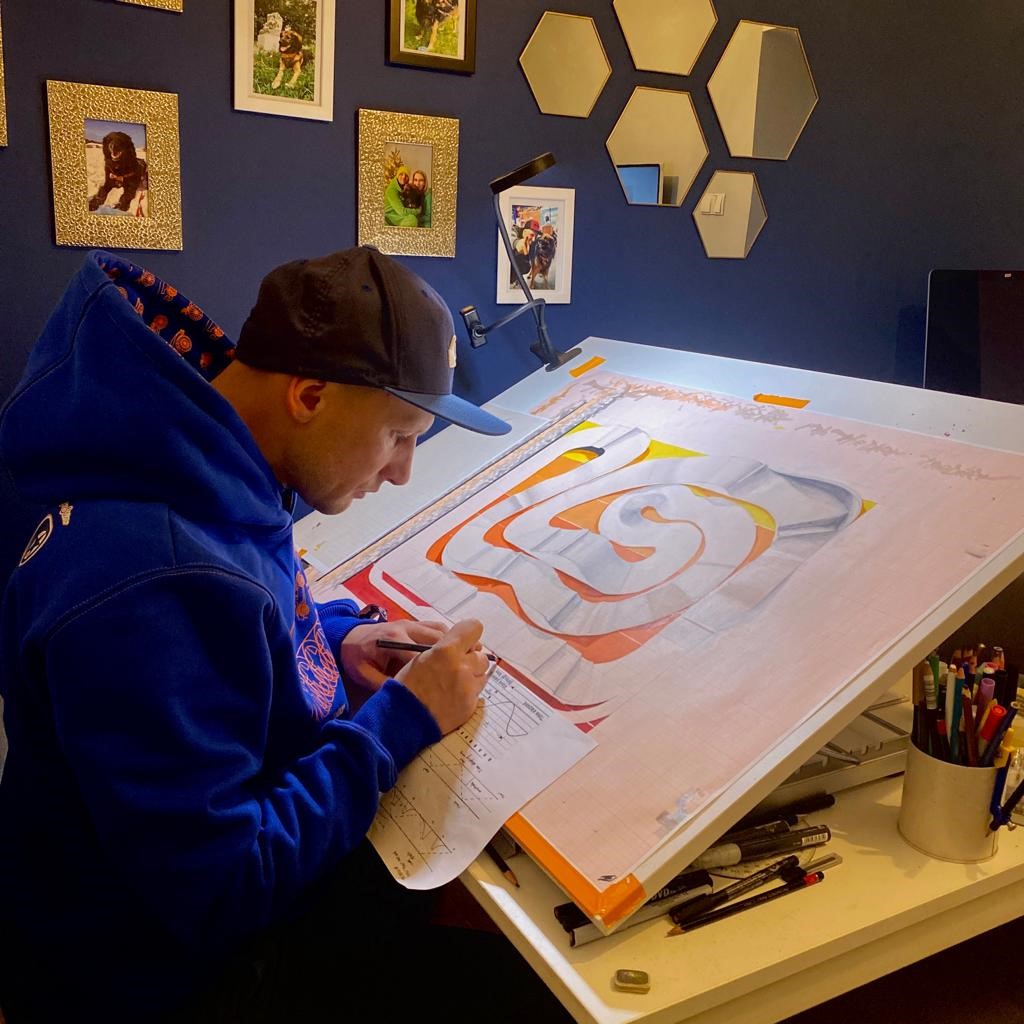 EOS: We also recognized that you are doing some amazing painting on canvas and clothes. When did that started and what do you like the most about doing this?
Pawel: Painting on canvas, I started many years ago, and it is part of my daily work. With painting clothes I started just some years ago when I did it just sometimes when I had time. What I like the most is doing the small details not every job needs, but I'm enjoying a lot when I do the small detail things with the airbrush or pencil.
EOS: You are planning to bring some of your amazing drawings and paintings to Daun, to show them to the public. We are already looing forward to see your great work. Will people have the chance to buy some of your artwork in Daun?
Pawel: Yes, one of the idea is to make a small exhibition of my track designs. I put this in the frame I will also like to bring some airbrush canvases, some small surprise and I would like to make an auction for my track design of the EOS season final. And I think this will be a great souvenir for somebody after the biggest carpet off-road race in Europe.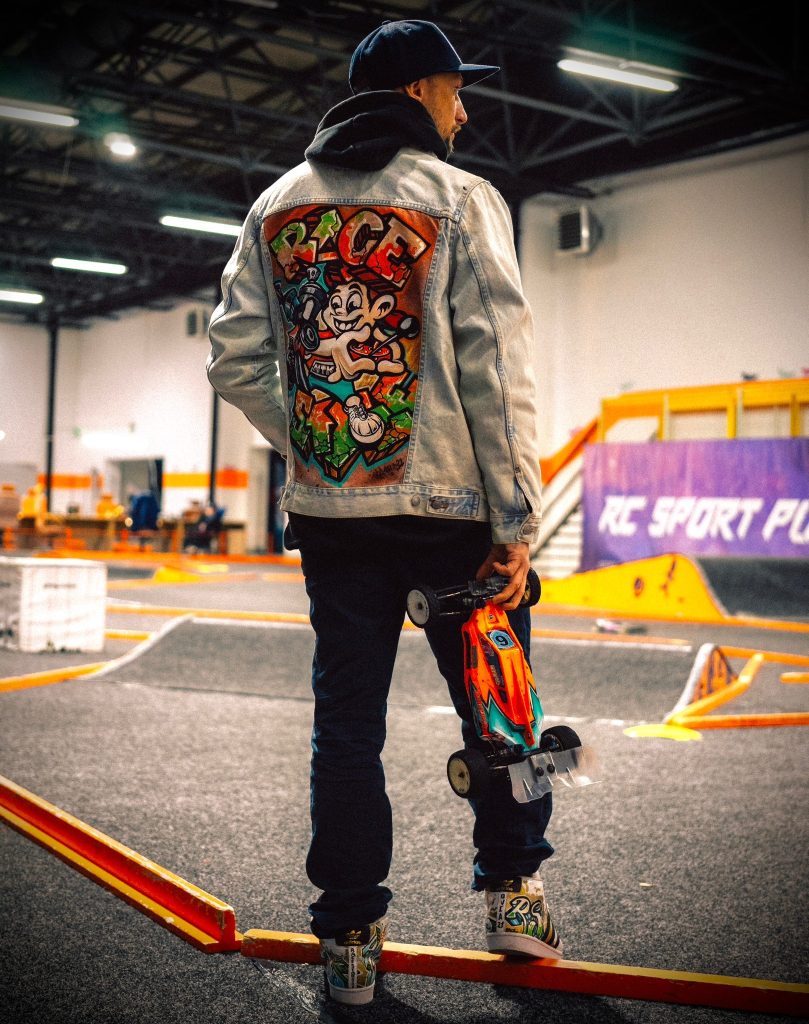 EOS: Is there anything else you want to let our readers know?
Pawel: RC is in my blood, and I find a way to share my ideas all over the world with track designs. Drawing makes me relax and I hope to help others to make racing more fun. I want to constantly grow the RC community and am optimistic about the future of RC. Big Love for my fiancé Zuza, my track buddy Seweryn Skowroński, Race Stars Crew Poland and RC Sport Planeta people.
EOS: Pawel, it was a pleasure to talk to you. We now know you even better and we are really looking forward to our EOS race in Daun where the cars will race on the track you designed. We are also sure that the people will like your artwork a lot!
Pawel: Thank you for the interview. I can`t wait to travel to Daun to get everything started. I will do my very best to make it a great event and I am looking forward to work together with my track crew, and the whole EOS crew there. See you soon!