Winners and Champions are crowned for the EOS 2WD classes
The first half of the EOS season finale is in the books. Find out who won the races here in Daun and who are our overall champions!
2WD Modified Buggy
Kaerup wins A3 from Widmaier as they secured second and third overall while Orlowski wins the overall EOS title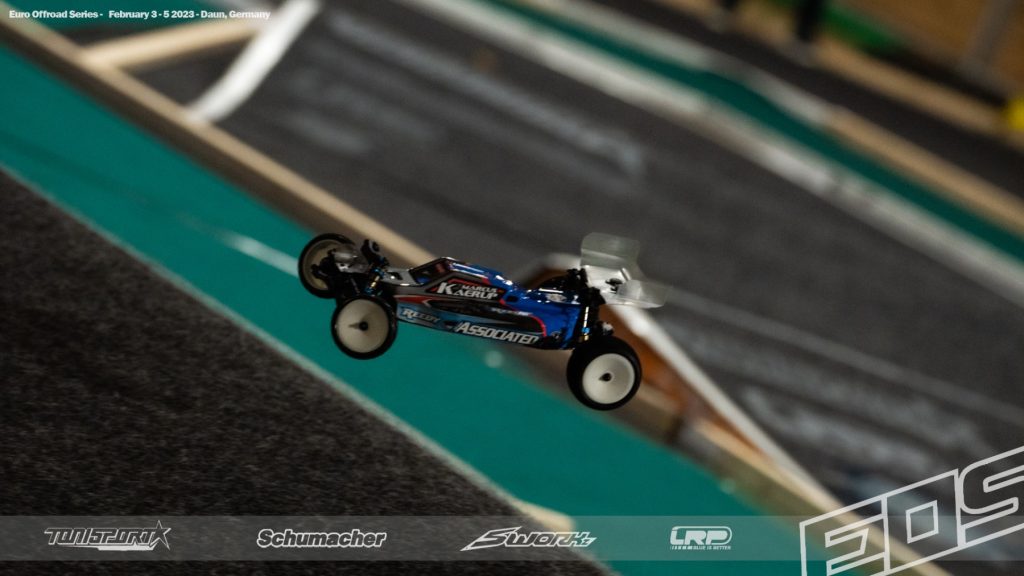 A3- Marcus Kaerup won the last 2WD Buggy A-Main here in Daun. After a mistake from race leader Widmaier, Kaerup took full advantage and will now step onto the podium in second place overall. Micha Widmaier joins Kaerup and race winner Champlin in third place.

Link to the Results on MyRCM: https://www.myrcm.ch/myrcm/report/de/67007/298780?key=203
The overall championship is decided now as well and Michal Orlowski will receive the big trophy for winning the championship in the 2WD Buggy class of EOS Season #10 2022/23. Marcus Kaerup is our new vice-champion and Lee Martin takes third place for the overall season.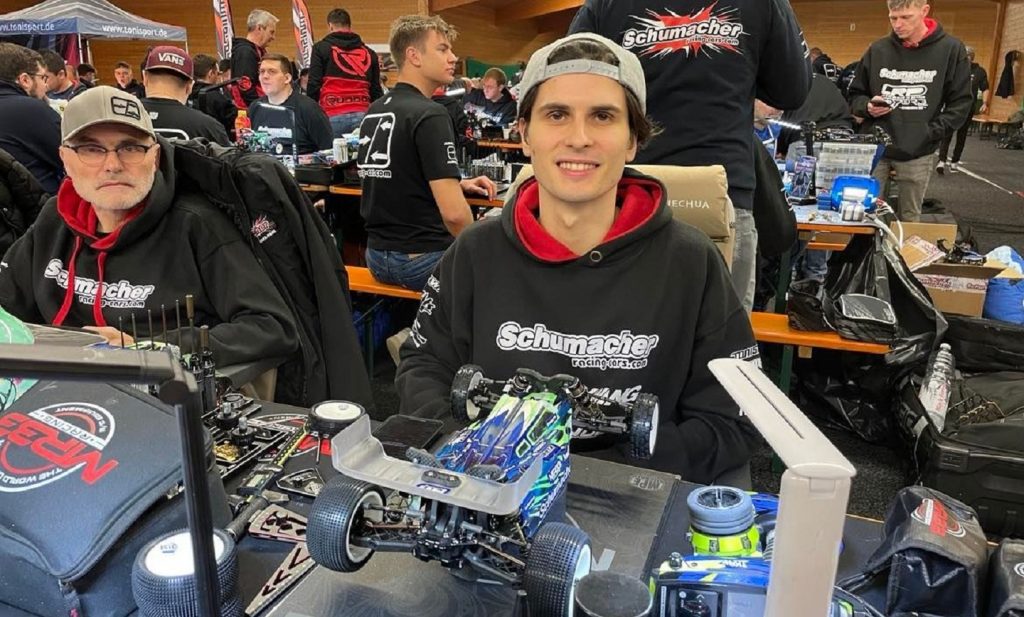 2WD Stock Buggy
Benetin takes last Stock Buggy final from Wynen and Bidovsky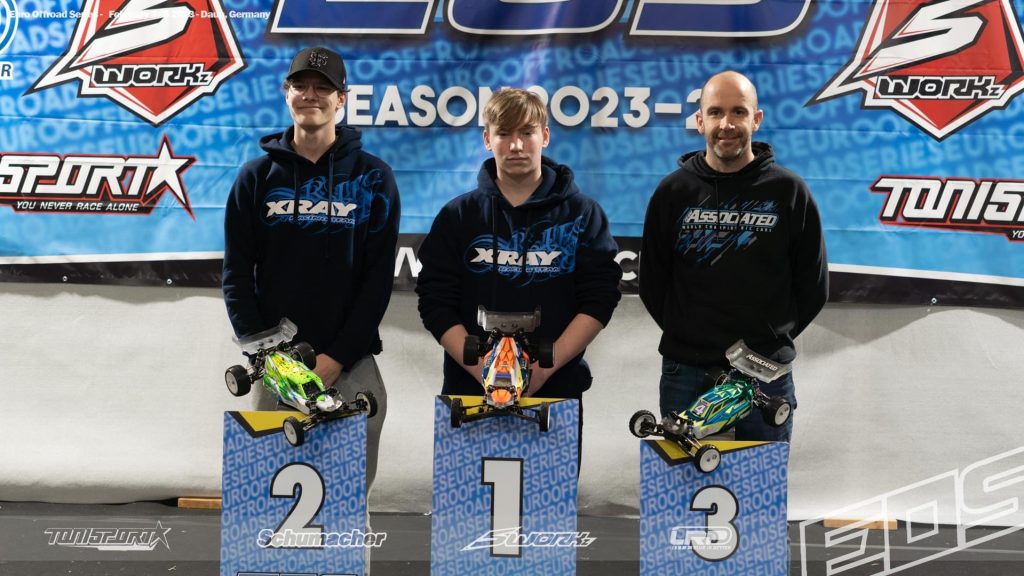 A3 – Matus Benetin won the last A-Main here in Daun. After a perfect drive he crossed the finish line in first place with Wouter Wynen and Ales Bidowsky right behind him. The overall result will see them on the podium beside race winner Mick Burbach as well.
The overall 2WD Stock Buggy championship goes to René Levetzow who was not in attendance here in Daun. He won the title with his two race results from Göttingen and Worksop – congratulations champ! Sven Rudig and Sören Sparbier completed the season in the top 3 beside Levetzow.

Link to the Results on MyRCM: https://www.myrcm.ch/myrcm/report/de/67007/298779?key=203
Stock Truck
Wukonig wins Stock Truck on the tie breaker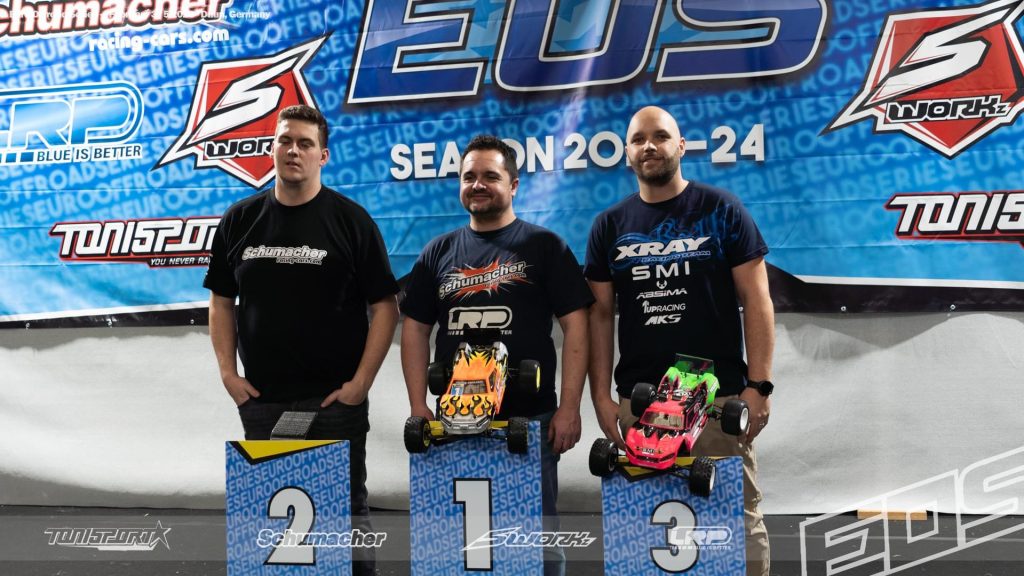 A3 – The last leg in the Stock Truck class was a great show of RC racing. Christian Wukonig had a good start (same as in A1 and A2), and was leading the field after a lot of carnage going on behind him. But as the run got closer to the end, Wukonig made some small mistakes and Märzinger went by. He won the race ahead of Wukonig, but the overall win went to Wukonig on the tie breaker. Kai König finished third overall on the podium.
The overall championship of the Stock Truck class goes to Olaf Stein, in front of Eberhard Beck, and Daniel Mannhart – congratulations guys!

Link to the Results on MyRCM: https://www.myrcm.ch/myrcm/report/de/67007/298778?key=203
Enjoy the EOS grand final in Daun together with us – no matter where you are!