4WD Modified Buggy
Collection grows as Orlowski adds another EOS title
The first leg was looking like a walk in the park for Schumacher factory driver Michal Orlowski. He controlled the race from the front and never got under serious pressure as his gap was always at around 2 seconds to the rest of the field. Behind Orlowski, the reigning European champion Marcus Kaerup moved all the way up to second place as Zalewski, Champlin, and Widmaier lost some ground. Michal Orlowski took A1 in style from Kaerup, Widmaier, Neumann, and Boda and was already close to the overall race victory and championship title. Kaerup received a 5-second penalty after the race due to a contact with Champlin and he dropped down to P7. Micha Widmaier earned second place because of that.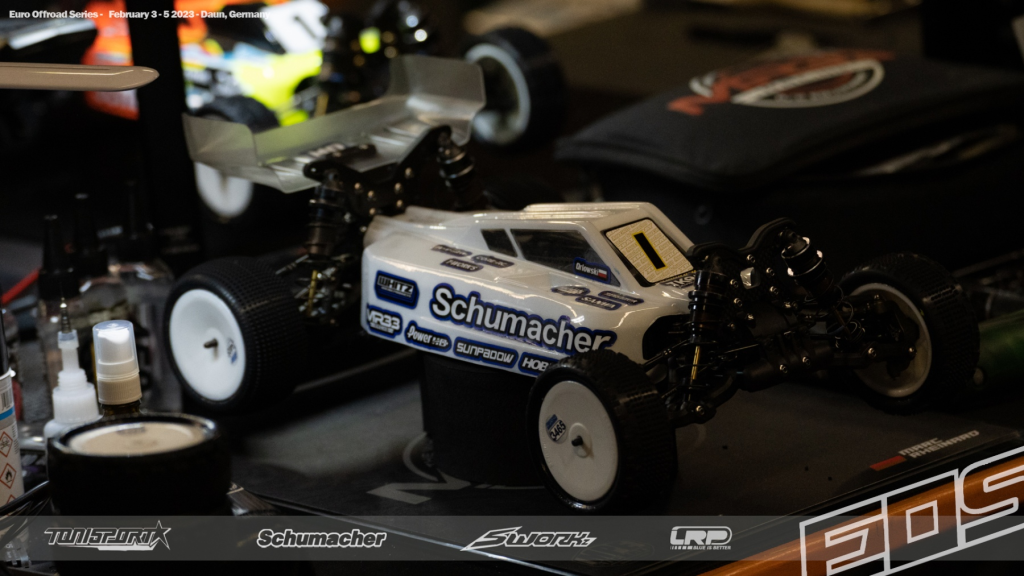 In the second A-Main it was again Orlowski with a clean and brilliant race. Behind him, Marcus Kaerup was running in second with Broc Champlin right in tow. After Kearup rolled his car at the back-side double, Champlin moved into second spot and tried everything to hunt down Orlowski. Champlin came closer in the last minute of the race, but finally he was running out of time and Orlowski took the overall win here at the EOS season finale in Daun. The championshio also goes to Michal Orlowski who can now add another trophy (7th EOS title) to his big collection. Behind Orlowski and Champlin, Alexander Landen (from 10th on the grid), Tommy Hall, and Lee Martin completed the top five.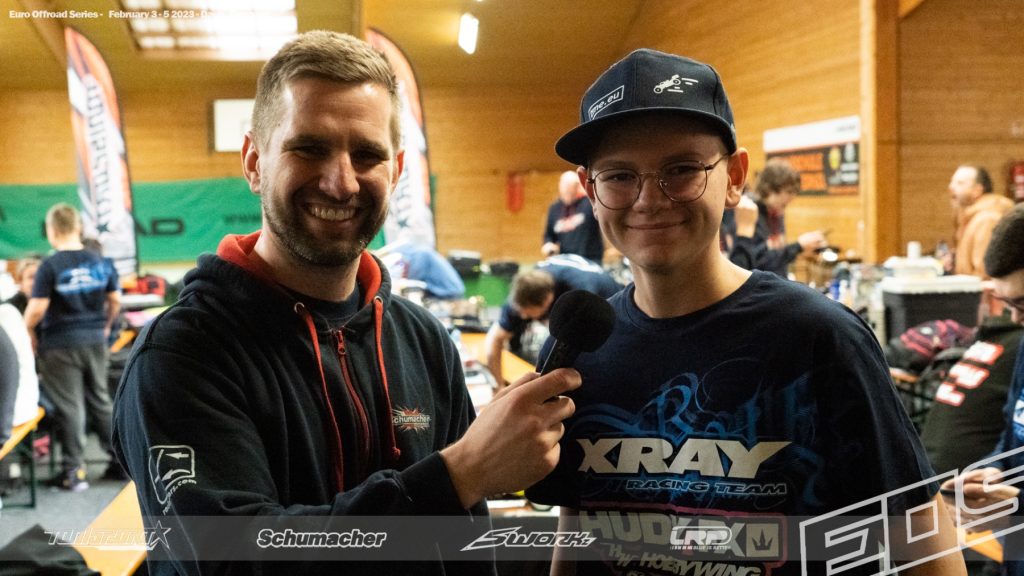 Link to the Results on MyRCM: https://www.myrcm.ch/myrcm/report/de/67007/298783?key=203
4WD Stock Buggy
Sparbier is 4WD Stock Buggy EOS champion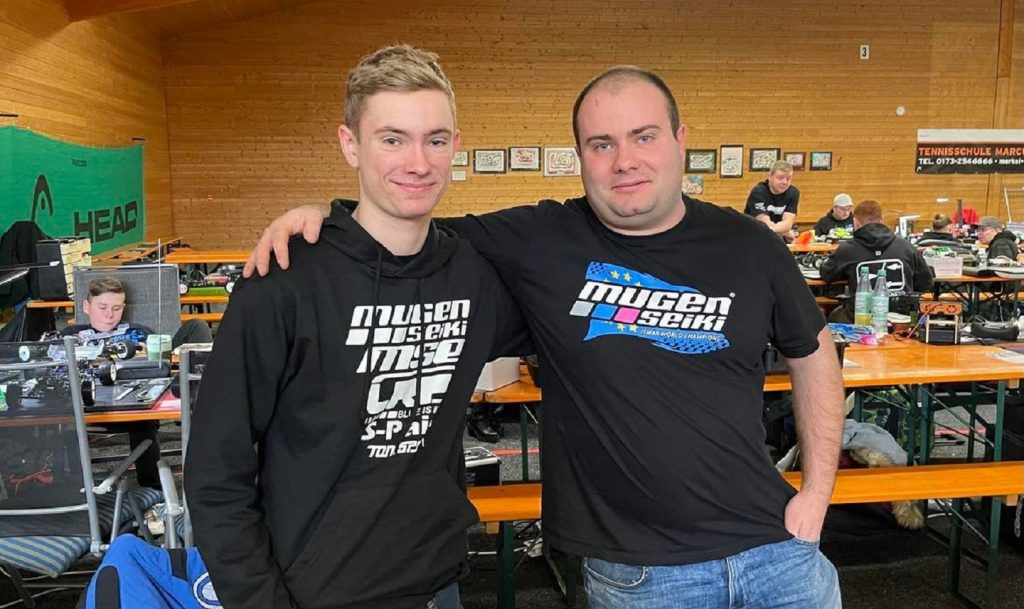 Sören Sparbier was not having a great start into the first A-Main. He had to let Benetin and Stegmeier passing by in the first lap of the race but was driving a clever and smart race afterwards. He waited for something to happen in the front and as Benetin and Stegmeier both started to make mistakes, Sparbier took full advantage and drove to the win in A1. Sparbier`s championship contender Sven Rudig finished sixth and needed a miracle before leg 2 in the 4WD Stock Buggy class.
The second A-Main saw Matus Benetin taking the win. Sören Sparbier, Simon Stegmeier, Sascha Frühwirth, and Aaron Waitz finished the run right behind Benetin. With a first and second place to his favour, Sören Sparbier has already sealed the overall championship in the 4WD Stock Buggy class. Sven Rudig is not able to finish in front of Sparbier anymore, and that handed the title already to Sparbier before A3. However, the decision for the race win here in Daun will be on the line in the last leg between Benetin, Sparbier, and Stegmeier. Let`s see who will take it!
Link to the Results on MyRCM: https://www.myrcm.ch/myrcm/report/de/67007/298782?key=203
Modified Truck
Nothing new as Neumann wins A1, A2, and the EOS Modified truck title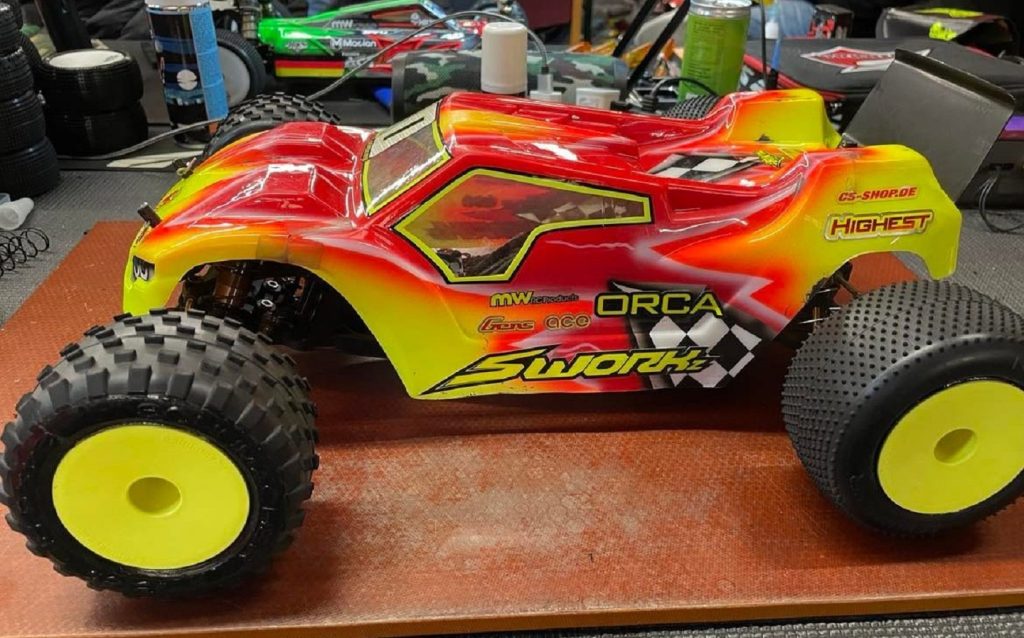 Jörn Neumann took the opening A-Main in the Modified Truck class from tone to tone. His truck looked amazing on track and his style of driving and jumping allowed him to pull away from Bayer, Götz, and Widmaier. Neuman crossed the finish line some 5 seconds ahead of Micha Widmaier, Max Götzl, Martin Bayer, and a great driving Sophie Müller in fifth place.
The Neumann "Truck show" continued in the second A-Main. Martin Bayer was able to match Neumann`s pace in the first two laps but then he disappeared from Neumanns rear-view mirror as Neumann simply had too much pace in his car.
Link to the Results on MyRCM: https://www.myrcm.ch/myrcm/report/de/67007/298781?key=203